Downbeat Live Music Guide is for music tourists who want to discover, explore and support the Austin live local music industry. It is an app that helps people discover live local music and contribute funds directly to the musicians they enjoy. It enables them to pre-pay door cover charges and give tips to the musicians. -- both traditionally go to the musicians. Downbeat rewards users by giving them bulk discounts on venue cover charges and encourages them to help grow the local music community by tipping the musicians after each show. It facilitates this experience through an easy mobile transactional interaction.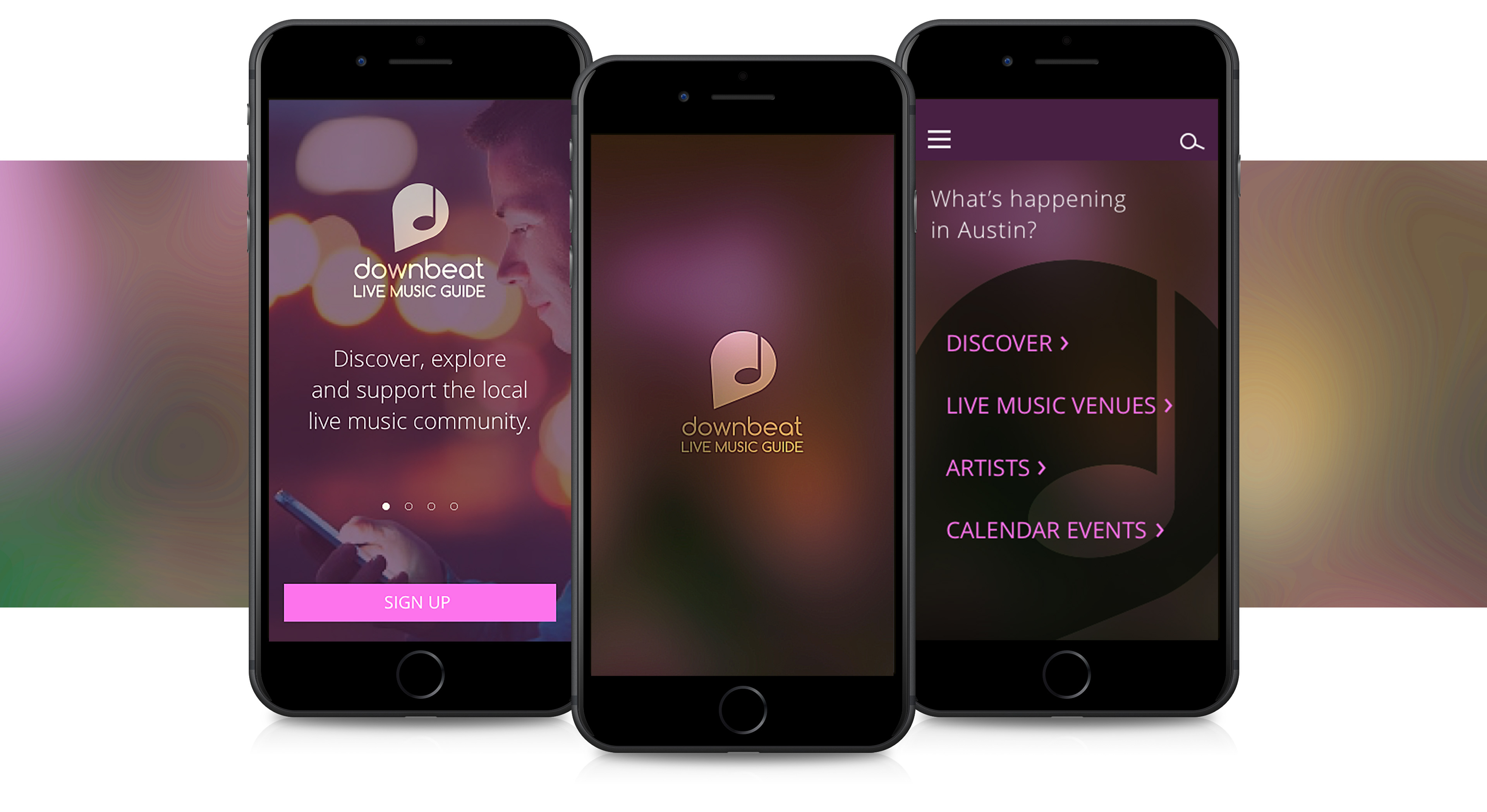 This is my portfolio project for the Austin General Assembly's part-time UX Design course. The class took place between September and November 2016. In that time, I identified a problem that I wanted to solve. Gathered
qualitative
data and quantitative research data. Then, synthesized the research, created personas, defined user goals and ideated possible solutions. I conducted
competitive research
then storyboarded ideas, user scenarios,
feature prioritization
and flows to come up with a minimum viable product. To help me get a clearer picture of what this project could be, I created concept maps, paper prototypes, a
sitemap
 and ultimately an initial wireframe prototype that could be
tested for usability
with potential users. At the end of the course I
presented
my findings, the solution I created, a wireframe prototype and initial
user testing results
to my classmates and teacher for their feedback. Over the following months after the class ended and with the class feedback in mind, I redirected and refined the
user journey
for the next iteration of this project.
I used google docs, slides and spreadsheets so that my class and teacher could easily access and comment on documentation. And we used Slack to communicate with each other outside of class. I used Sketch app to develop wireframes, screen flows and eventually higher fidelity screens. I used InVision to help me quickly prototype an interactive, testable
wireframe
and the current iteration of the
Downbeat app prototype
.
Promote Austin music tourism and support the local music community
The live music scene in Austin has steadily grown with the help of world-class tourist events like the SXSW conferences, ACL fest, X Games, F1 racing and the opening of the 360 amphitheater. But, In the past four years, Austin's local primary music industry has shed more than 1200 jobs.
The goal of this project is to promote Austin music tourism while helping local music industry professionals to stay in Austin and continue to grow their businesses.

Design a beautiful and engaging experience for people
There are many music discovery, social and transactional apps available. In order to differentiate this one from the others it needs to be a meaningful, pleasurable and convenient experience for customers. The main principles that guide the strategy of this design are: Lean UX, the Hook Model and Narrative Storymapping.
The experience behind the experience
A Lean UX approach allowed me to come up with many ideas and a hypothesis quickly. I was able to bounce ideas off my classmates and teacher to get early feedback that would be incorporated in later iterations. My classmates and teacher also helped me identify assumptions that needed to be validated with potential customers in user interviews.
The hooks that bring people back
By following Nir Eyal's hooked methodology, I was able the think and design for behavior. What will make this customer come back to Downbeat instead of another app? How can I keep people engaged? It's not just about meeting their needs, but how can we reward them? In what ways and when? The hooked methodology also helped me clarify and form Downbeat's value proposition.
What's the story?
Storymapping (not to be confused with Agile story maps) helped me think about user flow in a whole new way. Less boxes, arrows, screens and more like a hero's journey on a storyline arc. I found that the Downbeat concept, users themselves and tasks they perform could all tell stories. This framework has emotional elements and can be easier to explain and understand.
Qualitative & Quantitative
If Austin is considered a leader in the live music industry, then why aren't there more music industry jobs in Austin? My original hypothesis was: There aren't many music industry jobs in Austin because there isn't a strong enough music business infrastructure or music industry network to support it. To test this assumption, I gathered qualitative data from
user interviews
and quantitative data from the
2015 THE AUSTIN MUSIC CENSUS
. In addition to that, I gathered information from the City of Austin's Staff Omnibus June 2016 response to the 2015 music census:
Music and Creative Ecosystem Stabilization Recommendations
.
Insights & Hypothesis
The research proved my original hypothesis to be untrue. My revised problem hypothesis is: The rapid growth of Austin is triggering the decline of the local music industry. Artists and musicians are leaving because they can no longer afford to live in the city. In addition, traditional live music venues are closing due to increased rents and property taxes.
"Nearly 70% of local musicians make less than $10,000 a year from music."
Personas
I was able to identify four archetypes of potential users from the research and developed personas for them. Then I selected a primary archetype persona that the research indicated could have the biggest impact on this problem.  
Create a custom local music tour experience
The research showed that new residents to Austin, music tourism, festivals and conferences are the fastest growing sectors in the local music industry. What if we could build on that momentum and create an individual  "tour" of must see local venues and bands for our users based on their preferences. But in order to really grow the music community we'll need to keep our users engaged. Using "How might we…" statements, I storyboarded ideas and scenarios which helped me identify the main goals of the our primary user and many different ways to address it. It all came down to what made the most sense to solve our user's goals and give them the best local music experience possible.
Downbeat Live Music Guide
Downbeat Live Music Guide is an app for music tourists who want to discover, explore and support the Austin live local music industry. It promotes local music and venue discovery and helps users contribute funds directly to the musicians they enjoy by enabling them to pre-pay door cover charges and give tips to the musicians. (Both traditionally go to the musicians.) Unlike the competition, our product rewards users by giving them discounts on venue cover charges and reminds them to help grow the local music community by tipping the musicians after each show. It facilitates this experience through an easy digital transactional interaction.
Ebbs and flows
After choosing the direction that worked the best for Jeremy, the primary user, I created a user flow based on the storyboarded scenario. I created a concept map, paper prototypes and a
site map
. After sharing and getting feedback from the class and
prioritizing features
for the MVP, I created initial wireframes and a wireframe screen flow with annotations on key screens. Then created a
wireframe prototype
in InVision and performed a
usability study
 with potential customers to see if I was going in the right direction.
Something's missing?
The wireframe prototype gave me the
testing results
 I needed to move onto the next iteration. It showed that the user flow was too complicated, needed to be refined, and wasn't very engaging. I turned to
storymapping
. Using this framework, I created a concept story, Jeremy's origin story and his usage story. These story maps helped figure out key touch points and convey at a high level what Downbeat is and what it can do. They also helped narrow down and refined Jeremy's usage journey.
The purpose of this concept story is to define the big picture overview of what it is. At the highest level, it reveals what we want customers to
think
about it. This story map helps illustrate the core concepts of Downbeat and it's value proposition.

The origin story bridges the gap between Downbeat's concept story and Jeremy's usage story. For Jeremy, it is the space between what he thinks about Downbeat and what he does with it. It tells us how Jeremy finds Downbeat then where and when Jeremy sees what he can do and take action with it. It illustrates how we can communicate our value proposition to Jeremy, get him to take action and experience it.
Outlining Jeremy's origin story is the first step toward his discovery and conversion to Downbeat. Now we need walkthrough screens that embody his story and then we need him to experience the value of it.

The usage story illustrates what Jeremy does, the steps he takes to meet his goals.  It tells us how and why he can experience value in using and continue to use downbeat. The first story is what Jeremy's current journey to meet his goals looks like without Downbeat. You will notice that it ends with a cliffhanger when his ultimate goals are not met. The second story is what his journey looks like with Downbeat helping him to meet his goals.
After diving deep into storymapping, I decided to take another look at Nir Eyal's hooked model again to see how Jeremy's new origin story could work with it. 

There were three major pivot points in this project. The first happened in the discovery phase when the research pointed in a different direction then my original assumption. The second happened in wireframe testing when usability tests showed my flow and navigation needed to be rethought. The third happened in the feedback I received after I presented my project to my UXD class which brought me to THE USER'S JOURNEY: Storymapping Products That People Love, by Donna Lichaw. It really helped me redefine the primary user journey and I will certainly continue to use those methods.
Downbeat InVision prototype:
Downbeat InVision design system:
Downbeat screen gallery and ideal user flow
All screens and wireframes created in Sketch app.

Downbeat Sketch style guide at a glance.